Sloan® SOLIS® Collection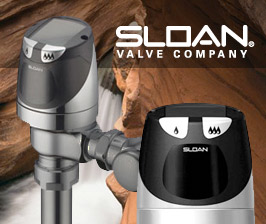 New SOLIS® Flushometers, part of the Sloan SOLIS Collection, are the industry's first solar-powered, sensor-activated Flushometers. Sloan SOLIS Flushometers for water closets and urinals provide ground-breaking water efficiency and utilize state-of-the-art photovoltaic technology.
The dual-flush model has two flush cycles: Users can choose the full 1.6 gpf/6.0 Lpf flush for solid waste or the reduced flush of 1.1 gpf/4.2 Lpf for liquid waste. If the user does not press a button, the Flushometer's Dual-Flush Smart Sense Technology™ takes over and automatically initiates a flush cycle, based on how long the user remains in the sensor range.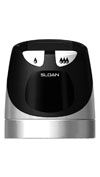 SOLIS® Exposed Solar Powered Dual-Flush Water Closet Flushometers
Quiet, Exposed, Diaphragm Type, Chrome Plated Closet Flushometer for either left or right hand supply with the following features:
Solar Powered. The sensor assembly is powered by a solar cell that will harvest power from artificial indoor light, either incandescent or fluorescent light, and use it as the energy source. The solar cell can provide approximately 100% power with 650 Illuminance (lux).
Four (4) Size AA Battery Back-up Power Source.
"Low Battery" Flashing LED.
If the user is present for less than one minute and leaves the sensing zone or chooses the small override button, a reduced flush initiates (1.1 gpf/4.2 Lpf) eliminating liquid and paper waste, saving 1/2 gallon of water.
If the user is present for greater than one minute and leaves the zone or chooses the large override button, the full flush initiates (1.6 gpf/6.0 Lpf) eliminating solid waste and paper.
Reduces water volume by up to 30% when a reduced flush occurs.
PERMEX™ Synthetic Rubber Diaphragm with twin linear filtered bypass and vortex cleansing action.
Flex Tube Diaphragm designed for improved life and reduced maintenance.
ADA Compliant Sloan Solis® Electronic Dual Flush Solar Powered Infrared Sensor for automatic "No Hands" operation.
Infrared Sensor with Multiple-focused, Lobular Sensing Fields for high and low target detection.
Latching Solenoid Operator.
Engineered Metal Cover with replaceable Lens Window.
User friendly three (3) second Flush Delay.
Courtesy Flush™ Override Buttons.
Infrared Sensor Range Adjustment Screw.
Initial Set-up Range Indicator Light (first 10 minutes).
1" I.P.S. Screwdriver Bak-Chek® Angle Stop.
Free Spinning, Vandal Resistant Stop Cap.
Adjustable Tailpiece.
High Back Pressure Vacuum Breaker Flush Connection with One-piece Bottom Hex Coupling Nut.
Spud Coupling and Flange for 1-1/2" Top Spud.
Sweat Solder Adapter w/Cover Tube and Cast Wall Flange w/Set Screw.
High Copper, Low Zinc Brass Castings for Dezincification Resistance.
Fixed Metering Bypass and No External Volume Adjustment to Ensure Water Conservation.
Flush Accuracy Controlled by CID™ Technology.
Diaphragm, Stop Seat and Vacuum Breaker molded from PERMEX™ Rubber Compound for Chloramine resistance.
100% of the energy used in manufacturing is offset with Renewable Energy Sources - Wind Energy.