Sloan Commercial Fixtures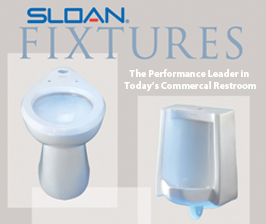 Sloan is not new to the fixture business. Our fixture line is an extension of an engineering platform that has been the foundation of the plumbing industry for over 100 years.
Sloan's long history of Flushometer design brings a unique understanding of fixture dynamics.
Our pioneer efforts in pressure- assist technologies paved the way for tank-type pressure designs.
Sloan, more than anyone, understands the relationship of bowl hydraulics and valve design.
The introduction of our commercial fixture offerings creates an industry-leading engineered system of toilets, urinals and lavatories.
Sloan engineering directed the entire manufacturing process of these fixtures. From concept to finished piece, the care and detail you've become so used to in our Flushometers has been transformed into today's commercial fixture/valve combination-systems that meet and exceed water conservation standards throughout the world.
Our products are unique.
There's the dual-flush 1.6/1.1 gpf toilet – the only dual-flush labeled bowl certified by I.A.P.M.O. on the market today. Our 0.13 (1⁄8 gpf) and 0.25 (1⁄4 gpf) urinals are designed to perform while saving water.
And because of the multitude of flushing options available to you, there's no other manufacturer that offers the breadth and range of commercial fixtures that Sloan does.
Today, with the launch of Sloan's commercial fixture line, you have the opportunity to specify and install the premier fixtures in the world – fixtures born of knowledge and Sloan engineering.
Download our fixture brochure for specifications on our system of products.